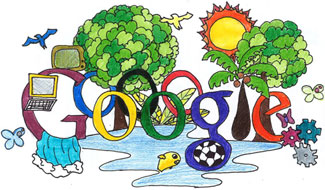 Página do Google de hoje. Desenho feito por Maria Luiza Carneiro de Faria (9 anos), vencedora do concurso "Doodle for Google" - Tema: "Nosso Brasil do Futuro"
Doodle
(noun): A figure, design, or scribble drawn or written absent-mindedly (aqueles rabiscos feitos durante uma reunião desinteressante).
v., -dled, -dling, -dles. v.intr. To scribble aimlessly, especially when preoccupied. 2.To kill time.
v.tr.: To draw (figures) while preoccupied.
Read more: http://www.answers.com/topic/doodle#ixzz1EApdlYsp